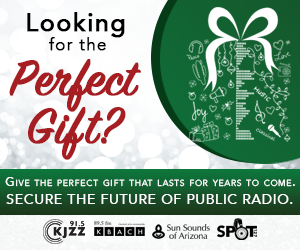 Your charitable gift to SPOT 127 through a will, trust or estate plan can play a meaningful role in the future of KJZZ's Youth Media Center and perpetuate your life values. Making your final wishes known is the perfect gift for your family. For more information on how to make a difference, download our charitable giving brochure. 
To include SPOT 127 in your estate plans, please direct your funds to: "Friends of Public Radio Arizona (FPRAZ). These funds are to be used to support (list SPOT 127) at the discretion of the FPRAZ board and station leadership."  You may further specify your bequest to one of our on-going projects. Please contact us to discuss the language that would best meet your needs to be sure we are able to apply the bequest in accordance with your wishes. For your information, FPRAZ is the entity that stewards all charitable gifts to SPOT 127.
Every dollar given to FPRAZ through a bequest or other the testamentary gift is fully deductible for federal estate tax purposes when certain legal requirements are met. An estate tax deduction is allowed for a deferred bequest to FPRAZ even though the bequest provides income benefits to individual beneficiaries.
The tax ID for FPRAZ is #01-0579687.
Due to the fluid nature of the estate tax law, it is difficult to make definitive statements about the estate tax deduction available for charitable gifts made by a will. Please check with your advisor to see how the current law affects your estate plan.